The creators of the IP.Gold project has discovered that IP addresses present a unique and profitable opportunity. They realized that those little numbers on computers could be used for more than just accessing your favorite sites.
IP addresses make it possible for everyone to access a wide array of services in their daily lives. These services fuel revenues that are worth billions of dollars for online marketers, advertisers, and many others.
If you have been around computers and on the Internet for any length of time, you may have heard the term IP address. Although you may have heard about them, you may not know exactly what they are or why they are important.
IP stands for Internet Protocol. An Internet Protocol address, or IP address is a unique identifier given to every machine in a network. An IP address serves two primary functions. It is used as an interface identification for a network of machines and it also serves to provide a location of that machine, much like a physical address for a home or business. Because an IP address is a unique identifier, it allows computers to send and receive information to and from specific computers in a given network.
IP addresses are one of the most critical resources that need to be managed in any network. Every networked application and device -- from e-mail and Web connectivity to file storage and networked printers -- depends on IP and requires address assignment
IP.Gold will leverage Blockchain technology and Smart Contracts to expand its uses. IP.Gold will be able to work faster to identify and transfer IP address assets, setup services to generate revenue
quicker, and significantly reduce operational overhead by streamlining resources."
While new standards are planned to alleviate the shortage of IP addresses in coming days, right now IP addresses are becoming quite scarce. This has created major problems for some but the developers of IP.Gold see a huge opportunity.. 
This ensures maximization of short-term revenue and stability in revenue generation for the long term. The ecosystem is scalable so that more IP addresses can be added leading to more revenue. Best of all, the ecosystem generates revenue on IP address, which means the asset value continues to rise.
The majority of applications on the Internet utilize the original IP version 4 (IPv4) address standard, ie. 207.95.18.206. Allowing a maximum of 4.3 million addresses for public use, IPv4 addresses are allocated by 5 Regional Internet Registrars (RIRs), each representing a specific geographic region. Currently, less than 5% of IPv4 addresses are available worldwide for new allocations, resulting in some RIRs running out of IPv4 allocations altogether and the others instituting severe restrictions on new allocations. The effect has been significant increases in lease prices of IPv4 addresses to end customers and accelerated growth of the secondary trading market for IPv4 addresses. More importantly, services delivered on these IPv4 addresses have seen wholesale and retail revenue double in the last 24 months, with sale prices for IP address allocations rising by 50-150%!
There's a golden opportunity in IP addresses! IP addresses enable a vast array of services we use in our daily lives that fuel the billion dollar revenues of advertisers and online marketers, global content providers, social media networks, and so much more.
TOKENSALE DETAILS

To grow and and expand the success of IP.Gold, we are conducting a Token Generation Event that will be conducted in two phases: a Private Sale and a Public Initial Coin Offering (ICO) to issue tokens on the public blockchain. The tokens symbol is IPG and will be issued at the end of the ICO during the Distribution Period. The price of the IPG Token during the Private Sale and ICO will be pegged to USD $1 and early Sign up Bonus IPG Tokens will granted to contributors according to the table below:
Each holder of IPG tokens will be entitled to a Revenue Share, paid quarterly; equal to 20% of audited collected gross revenue. This will be implemented by taking 20% of collected gross revenues and sending it to the smart contract. For example, if net Gross revenue for the Q1 is $5,000,000 USD, 1,000,000 USD as a revenue share will be sent to the smart contract to distribute amongst active IPG holders.
The smart contract will distribute crypto funds (Ether and XEM) to the holders of ERC20 and NEM mosaic tokens based on their percentage of total IPG Tokens issued. For example, if there are 20,000,000 IPG Hard Cap tokens distributed in total from the raise and you have 10% of the IPG Tokens (2,000,000 IPG) you will receive cryptocurrency of 100,000 USD value on a 1,000,000 Quarterly payout.
THE ROADMAP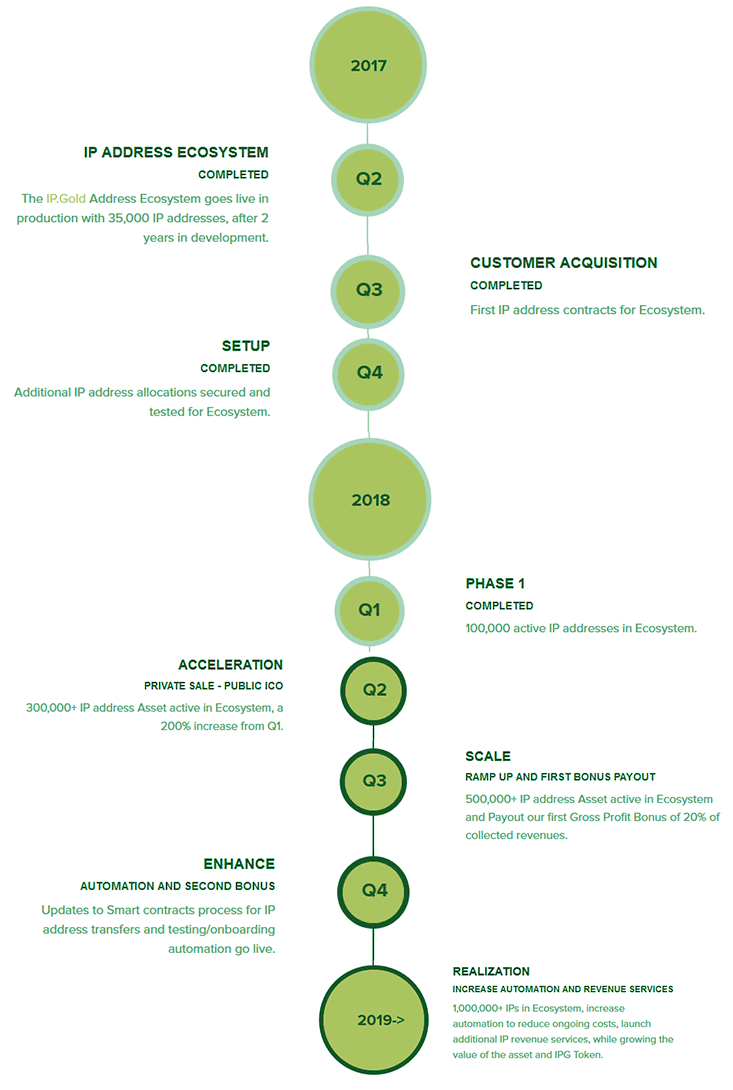 THE TEAM MEMBERS*
the team is lead by David Callender founder Serial Entrepreneur and Patented inventor, involved in the startup and development of 15+ companies in the technology and supply-side space in past 30 years. Proven track recordin IP Asset Monetization and Global Network, Data Center development and Executive Management as an IT Director, CIO or Executive Management consultant for Global 1000 companies.
The other team members includes:
David Grieshaber | CIO - Co-founder
Alan Donenfeld | ​Investment Advisor
Tyler Sanford | Marketing Advisor
Paul Hackett | VP of Sales
Comsa | Services & Advisory
OFFICIAL LINKS
Website :
https://ip.gold/
White Paper :
https://ip.gold/IP.Gold-ICO-WhitePaper. ... WhitePaper
Ann Thread :
https://bitcointalk.org/index.php?topic=3212220.0
Facebook :
https://www.facebook.com/IPGoldHQ/
Telegram :
https://t.me/ipgoldHQ