Crypto Jobs List
is the #1 place to find and post blockchain and cryptocurrency jobs.
About
Crypto Jobs List
is the leading blockchain and cryptocurrency job board.
Hundreds of technical and non-tech positions in crypto companies from all over the world: USA, Asia, Europe, Africa.
Both remote positions and opportunities to relocate.
Our talent pool is comprised of 1000+ engineers and non-technical professionals alike.
Testimonials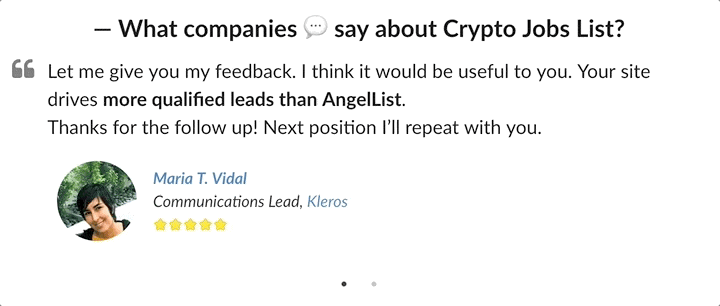 Featured on
-
CoinDesk
-
Product Hunt
-
Jameson Lopp's Bitcoin Resources
Join our Community
-
Telegram @cryptojobslist
-
Twitter @cryptojobslist
-
Reddit /r/cryptojobslist
Post a job
-
https://submit.cryptojobslist.com/
Submit a new job listing here
I'd love to hear your feedback here