blockchain is fascinating and innovative. As a completely decentralized system where financial actions that require a high level of trust, can be executed without trusting anybody. Everything is going to change, all because of Blockchain. It'll create new ways of working and leave more time for creativity and innovation. Intermediaries such as lawyers, brokers, and bankers might no longer be necessary. Individuals, organizations, machines, andalgorithms would freely transact and interact with one another. This is the immense potential of Blockchain. Blockchain is not going to just change the way industries and governments operate but it will impact the lives of everyone.
However, all these features have far come with a price: the already existing blockchain platforms have a limits on the number of transactions that can be processed in a specified time interval, almost all of the well-known first-generation blockchain systems have hard limits on the number of transactions. Bitcoin limits the maximum block size, Ethereum limits the total amount of gas in a block, as examples.
blockchain protocols and applications fail to offer enterprises the scalability required by different enterprices for effective operations, the Scalability issues have given rise to significant transaction fees, clogged mempools and long drawn debates resulting in forks and community splits. Ethereum's ambitions are currently constrained by the transactions per second (TPS) factor. For it to replace Visa, it should have a TPS of 45,000; however, at its current TPS of 15, aside all these, the likes CryptoKitties suffices to make the network more unusable. With all these different problems, the need for a development and innovation to blockchain technology is greatly needed and luckily
HETACHAIN
platform is ready to provide one.
HETACHAIN is a distributed modern Dapps ecosystem built around a high-performance, secure and easy to use blockchain for developers, entrepreneurs, businesses and financial institutions and many more. The platform is built with the potential to lead to radical simplification and cost reduction for large parts of many digital ecosystems, while making them more open, secure and reliable. User and business data is collected and stored in a secure distributed way through the high performance blockchain integration.
HETACHAIN Is a super hybrid Dapp platform created with the ability to build a Dapp for any existing blockchains. It is a new cryptocurrency which is based on its own unique Blockchain technology. HETACHAIN will be develop with all the needed infrastructural and technical performance needed to provides lightning fast ecosystem which is capable of processing millions of transactions per second, as well as an ecosystem of free transaction charges and will enables users to easily create free DAPPS and the ability to create their own cryptocurrency with little to no technical experience.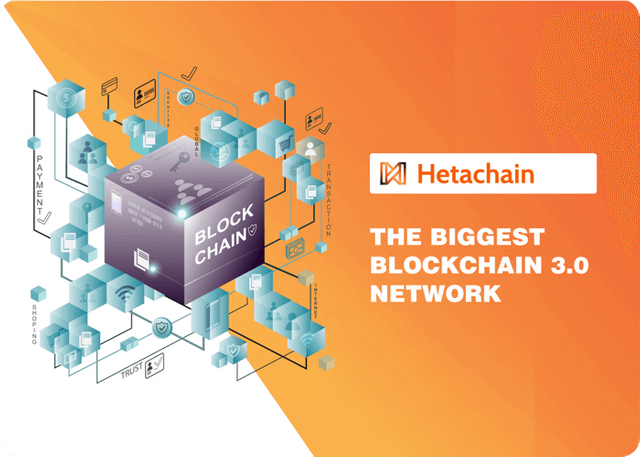 The strength, resilience and competitiveness of the HETACHAIN PLATFORM lies in its powerful research and development team that ensures top notch stability, robustness and quality of service to bring about the utmost satisfaction of the entire crypto community. HETACHAIN creating a promising and prosperous future for the blockchain technology as well as its underlying applications through the creation of a platform with massive long term and large scale ecosystem to provide quality of service operations.
TOKEN SPECIFICATION.
The HETACHAIN platform will have native token called the HETA which is created on the secure Ethereum blockchain to carry out all the transactions on the platform
Token Symbol => HETA
Total Supply => 60,000,000,000 HETA
Token Type => ERC20
Network => Ethereum Blockchain Network
TOKEN DISTRIBUTION
15% Allocated to Team
3% Allocated to Advisors And Partners
5% Allocated to Bounty And Airdrop
3% Allocated for Business Operation
4% Allocated for Product Development
30% Allocated for Private Sale
40% Allocated for Public Sale
THE HETACHAIN TEAM MEMBERS
It is known that the success of any project depends on the team behind it, the HETACHAIN team is made up of professionals with vast and top notch experience in fintech, IT development, marketing and communication, software development, and business development who has proven themselves to be transparent and take the success of the project as their major priorities.
USEFUL LINKS TO KNOW MORE ABOUT HETACHAIN.
WEBSITE:
https://www.heta.org
WHITEPAPER:
https://heta.org/docs/HetaChain_whitepa
... er-1.0.pdf
FACEBOOK:
https://www.facebook.com/hetachain
TWITTER:
https://twitter.com/hetachain
TELEGRAM:
https://t.me/Hetachain_Community
WRITTEN BY
Username: Cryptomonger
LINK :
https://bitcointalk.org/index.php?actio ... ;u=2110141